Page 5
Submitted by admin on Mon, 06/30/2008 - 22:16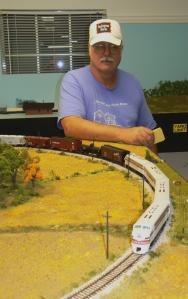 The mainstays of freight service on the Fox River Branch were Cicero-Streator manifest trains 85 and 86. Here Steve Holding (a BNSF Dispatcher and another expatriated Illinoisan, originally from Aurora) has a long, heavy 86 northbound past the recently-harvested fields between Sheridan and Millington. That A-B-B-A set of F3s isn't overkill: Not only were 85 and 86 high-tonnage trains, northbound Q trains faced a stiff climb out of the river bottoms north of Wedron. Just to the left out of frame the train is traversing the future location of the CB&Q bridge over the Fox River just outside Sheridan. Behind Steve you can see the south end of Wedron, where scenery work is just getting started. (Note that Texas steer on the right seems impressed by those "grayback" motors!)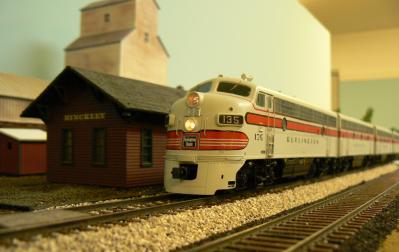 Train 86 roars through Millington, IL, where interchange is made with the 1.9-mile-long Illinois Midland, possibly the shortest common-carrier railroad the Q interchanged with. The IM was owned by the elevator in nearby Newark, IL and provided it with rail access.
On Eric's layout the IM is an active railroad, powered (like the prototype) by a single 0-4-0T, # 4. Interestingly, the real IM was a one-man operation, so when an operator on Eric's layout runs the IM, it's a completely prototypical full crew!
Pay no attention to the lettering on the depot that says "Hinckley"…obviously the B&B gang was lost (or drunk or both)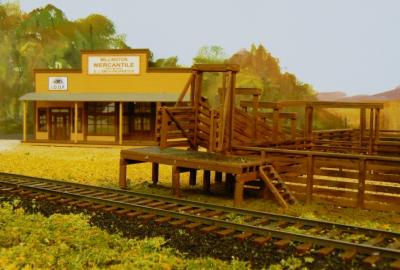 the day they painted the depot! As soon as they get the right stencils from the storehouse they'll be back to take care of that.
Here is a closeup of "downtown" Millington, showing the stock pen and the General Store which, like the prototype, doubles as the Odd Fellows hall (for those who don't know, "I.O.O.F" stands for International Order of Odd Fellows, a fraternal organization).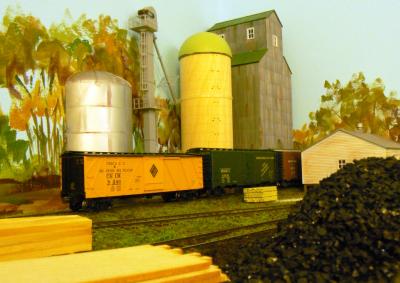 A few feet down the benchwork from Millington we find the Newark elevator and team track at the other end of the Illinois Midland. Business appears to be good on the IM today!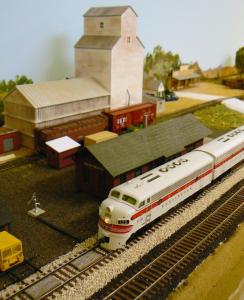 Boarding the company blimp, we get another view of Train 86 in Millington, along with an overview of the village and the well-maintained right-of-way. Eric used Micro Engineering track and switches (codes 83 and 70) almost exclusively on this layout.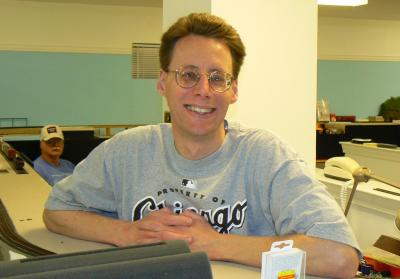 Here is the owner of the Fox River Branch and our host for this tour, Eric Mumper. In the background we see Steve Holding, fresh off Train 86 (see previous photo on Page 9), awaiting his next call to duty. Just to the left of Eric's right elbow is the future location of downtown Ottawa (you can see cars spotted on the freight house spur in the background). Behind Steve is the future location of the Illinois River drawbridge.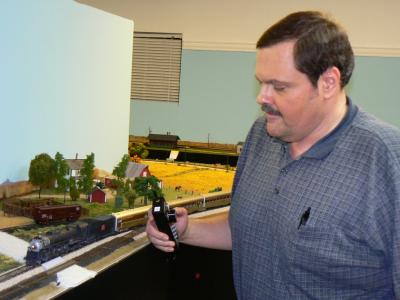 Just to prove Eric is a gracious host, here is yours truly running his Rock Island 4-8-4 (# 5114) on a post-session fantrip over the Fox River Branch, shown here entering Millington. There goes the neighborhood! (Photo by Kathy Krewer)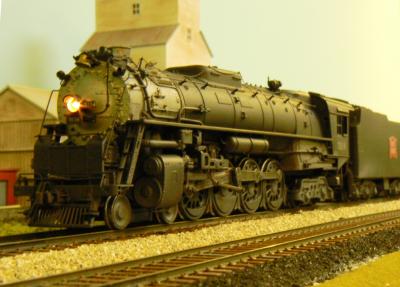 Couldn't resist throwing a shot in of the fantrip (Psgr. Extra RI 5114 North) at Millington. The engine is a Hallmark model from 1978, which was custom painted back then by Howard Nielsen of Earlville, IL. Eric reworked and improved the drive and added a Tsunami sound DCC decoder for me in exchange for some CB&Q equipment I had (the SD7 pictured on the Roustabout among them!).
Now I need to add some ashpan detail (RI 5110-5119 were coal burners and Hallmark's model was patterned on the 5100-5109, which were oil burners), MV lenses in the marker lights and cab curtains to finally finish this engine after 30 years!